SANTIAGO PERFECTO MOBILE ULTRASOUND.​
A project to enhance mother and child survival in the informal settlements of Kayole, Nairobi Kenya.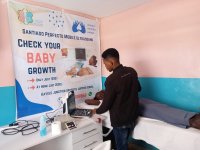 Santiago Perfecto Foundation, Nairobi, Kenya.
Pregnant mothers are required to do basic 4 ultrasound scans during pregnancy. In Kayole, Nairobi, Kenya the services are not available and mothers seek them away at expensive rates.
Santiago Perfecto Mobile Ultrasound Services, launched on 9th May 2022 in the informal settlements in Kayole, Nairobi, breaks the barrier of cost, time, and convenience for expectant mothers who hardly afford to monitor the growth of their unborn babies. Through JHH's partnership with Santiago Perfecto Foundation, mothers attending clinics in both the private sector and government dispensaries, continue to access timely and affordable obstetric ultrasound services. The innovation enables the delivery of ultrasound services at the doorstep either at the clinic or at the house. This is done through a laptop ultrasound machine and a small car. This partnership reduces the cost of procuring ultrasound services by 60%.
Dr Gabriel Nyamai a Kenyan clinician through the support of the community and clinicians continues to create partnerships for sustainability with clinic owners who cannot afford to provide ultrasound services because of the large capital required to purchase the ultrasound machine. The project covers a radius of 20 kilometres to ensure quality service and quick response. This ensures early detection of fetal anomalies during pregnancy and growth restriction to pave way for early intervention. This greatly promotes child and mother health.