Chronic underfunding over the past decade, and resultant severe austerity measures, mean UNRWA is
already operating with a $75 million shortfall
, putting its lifesaving programmes across the Middle East at risk.
"As I address you today,
I do not have the funds
to keep our schools, health centres and other services running as of September," Commissioner-General Philippe Lazzarini
told
a pledging conference at UN Headquarters in New York.

UNRWA Commissioner-General, Philippe Lazzarini, during a briefing on Shu'fat Refugee Camp discussing the challenges facing the camp.
Lifeline for millions​
UNRWA was established in 1949 as a temporary agency to provide aid to Palestinians following mass displacement from land that became Israel, making it one of the first UN humanitarian operations.
Today, nearly six million people in the West Bank and the Gaza Strip, and in Syria, Lebanon and Jordan,
depend on its services
, which are almost entirely funded by voluntary contributions. Nearly a third of registered Palestine refugees live in camps.
Mr. Lazzararini said an additional
$75 million is urgently needed
to provide food for over a million people in Gaza. Another $30 million is required to maintain cash and food assistance to 600,000 people in Syria, Lebanon and Jordan.
'Trapped in financial limbo'​
UN
Secretary-General António Guterres
has urged the international community to ensure the agency is fully funded.
Despite its essential role, "we allow UNRWA to remain trapped in financial limbo," he said in
remarks
delivered by his Chef de Cabinet, Courtenay Rattray.
The UN chief was also deeply concerned that some of the largest and most reliable donors have indicated that
they might be reducing their support
.
"Let's be clear: UNRWA is on the verge of financial collapse. The consequences of further budget cuts
would be catastrophic
," he warned.

UNRWA Student Parliamentarian Ahmad Abu Daqqa from the Gaza Strip addresses the 2023 UNRWA Pledging Conference.
Finding hope in education​
More than a half a million young Palestinians are enrolled in UNRWA schools, two of whom made impassioned pleas at the pledging conference.
Ahmad Abu Daqqa attends a boys' school in the Gaza Strip, where a blockade has been in place for nearly two decades.
"We, the students of the Gaza Strip,
seek hope amidst despair
," he s
aid
, conveying a message from his peers. "We only find it in education and learning, despite the numerous difficulties and obstacles we face, like living in a conflict and war zone."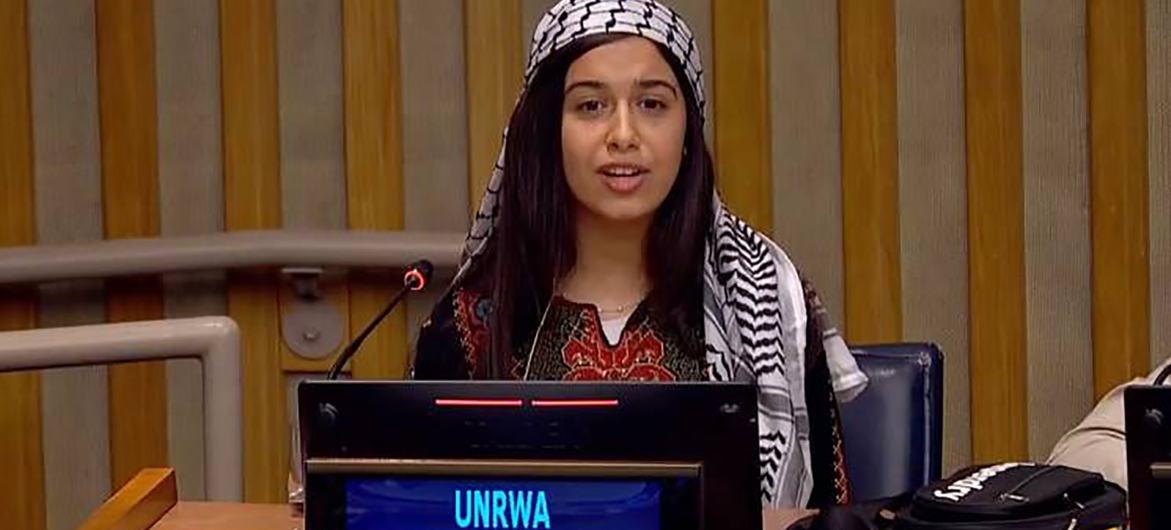 UNRWA Student Parliamentarian Leen Sharqawi addresses the UNRWA Pledging Conference in New York.
UNRWA students are proud of their education, heritage and culture, added Leen Sharqawi, 15, who attends a girls' school in Jordan. They also have big dreams.
"We are not just Palestine refugees," she
said
. "
We are children who dream of becoming global citizens
and who want to help the world become a better place. Good education is what will allow us to do this."